LaTeX

Online
Editor
A webbased typewriting & formatting application to create PDF
The LaTeX Online Editor (XO) is a graphical user interface to create perfectly formatted PDF documents from your input text whether it be a letter, invoice, thesis, etc.
It is usable in any browser & accessible from any device connected to the Internet.  No installation, download, or deep computer knowledge necessary.


For more information or to schedule a test contact:
1nfo#LaTeXOnlineEditor.de (replace # with @).
Some questions maybe answered below or on Wikipedia: Comparison of TeX editors
Table of Content
---
---
Screenshot
⇧top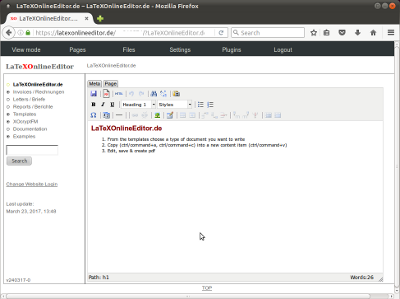 Features
⇧top
Creates pdf documents, full-automatic layout formatting (based on customisable LaTeX templates)
Rich text editor (TinyMCE), looks and feels like offline text processor (LibreOffice, MS Word)
Spell-checking for any language
No installation needed, just account setup (browser-based, device-independent)
Any kind of documents: letter, invoice, contract, article, book, theses (including toc, footnotes, ...), simple documents
Straightforward organisation of your documents in a hirarchy (due to CMSimple Content Management System (CMS))
Serversided encryption (optional, 100% spy-proof)
Encrypted network connection (https, default)
Personalized accounts, makes team work possible (optional)
Encrypted file manager (for your created documents or any other kind of files, 100% spy-proof)
Use as a public website/homepage (optional, no severside encryption)
Use of raw LaTeX markup language (e.g. for mathematical formula, optional)
Easy import, export, migration of your writings
Option to integrade in any other CMS with TinyMCE editor
Option to use non-interactivly as a report generation system (e.g. for invoices in a shop system)
Please see xhtnl2LaTeX.de
Documantation and support
Technical Background
⇧top
LaTeX Online Editor is embedded into the CMSimple content management system and uses TinyMCE as the rich text editor. The PDFs are generated by the LaTeX formatting engine.
The system uses templates as the general source of formatting to allow the user to fully concentrate on writing.  No more time wasted on adjusting margins or line spacing: it is the end of formatting frustrations. 
The templates can be customized individually with your personal style, signature or firm logo.
The CMSimple content management system provides a straightforward organizational structure for your documents.
FAQ's
⇧top
How difficult is the LaTeX Online Editor to use?
Not at all, I believe.  The entire purpose of this system is to make producing formatted documents as easy and efficient as possible.
A basic understanding of text processors such as LibreOffice or MS Word helps.
You simply write your text in the designated fields and generate your PDF by clicking a button.
The Use of the content management system (CMSimple) is fairly simple and straightforward.
You do not need any LaTeX, markup, or program language knowledge.
How can I adjust the formatting?
The idea is to leave the entire global formatting to the system. Through the editor you can do simple formatting such as bold, italic, and underline.
How can I adjust the global formatting, the templates?
LaTeX Online Editor comes with a set of ready-to-use-templates for letters, articles and reports.  Anyone with a knowledge of LaTeX can adjust the templates. I can help you with this.
Can I still use pure LaTeX code?
Yes, you can. E.g. for mathematical formula this makes sense.
What about privacy & security?
The LaTeX Online Editor system pays special attation to privacy and security.
Every user has his own personal serverside instance/installation.  All your texts/documents are stored encrypted on the server, although you do not have to keep them there.  
Your PDFs and another files you can upload into the systems encrypted filesystem and keep them there for future access.
The decryption happens in the process of working with the system in the memory - not on the hard drive.  Therefore, even the server administrator cannot read your personal data.
The web access is password protected. The network traffic through the Internet is encrypted (https).
Can I use the editor with my co-workers or as a team?
YEP. You can create personalized accounts. The CMS makes it even possible to work in parallel with the system.
What, if I want my wridings to be public?
NOP. It is also possible to use the system as a website/content management system, open to the public. You still can use the pdf creation function when logged into the backend.
Can the system beused with an other CMS?
Yes, any CMS using the TinyMCE editor.
Is it possible to use the system non-interactivly?
Sure! The system has a xhttp-(POST)-interface. It can be integrated in e.g. a shop system for automatic invoice generatation. Please see xhtnl2LaTeX.de
What is the status of development?
The LaTeX Online Editor was initially created in December 2015 and development is ongoing. Since it is a very young system, bugs or missing features may be possible.
Where can I receive support or have my questions answered?
The LaTeX Online Editor comes with a easy to understand documentation and FAQs. You may also ask me or the community.